Palus Politicus


Re: Climate check in
GMdawg
12/05/21
02:16 AM
I am living up to what I say. I don't have to pay the electric company 25, 000 bucks to use their service. So to claim solar won't cost me or others more right now is just asinine bro.
20
310
Pure Football Forum


Re: JOK
Steubenvillian
12/05/21
01:23 AM
"My only concern, and it isn't a big concern, is how he holds up if he stays more or less in a LB role. To me he is kind of like Phillips. Part of me wants him to gain some weight, but in doing so is that going to impact his biggest value, his speed at the position. maybe there is room to balance the scales a bit, maybe there isn't."

The thing I noticed about JOK, is even though, he isn't very big, it is more the way he plays. He is an excellent form tackler. If it is possible, he always seems to go thigh high and wraps up. A thing of beauty. But when he goes high, he shows tremendous power for his size, and uses his shoulder, not helmet. I just think he is one of those gifted guys with natural strength.

The thought of him and Phillips sounds good to me. Quick guys who tackle well.
28
893
Tailgate Forum


Re: the Trading Card thread
Dave
12/05/21
12:41 AM
I became a fan at age 5 or 6, and my guys were Rocky Colavito, Tito Francona, and a 1B named Vic Power. I bought this card about 20 years ago:
I have mini collections of Indians teams I liked from 1975, 1986, and 1995.
My wife bought me a 1989 Topps complete box set that may or may not have some valuable cards in it (depending on quality of print): Ken Griffey Jr rookie, Randy Johnson rookie, Rickey Henderson, Roger Clemens, Bo Jackson, Deion Sanders, others.
The cards I really like are 1950's Bowman issues of Cleveland Browns like Otto Graham, Marion Motley, Groza, Lavelli, Gatski, McCormick, etc. They had this "portraitized" finish that I really liked.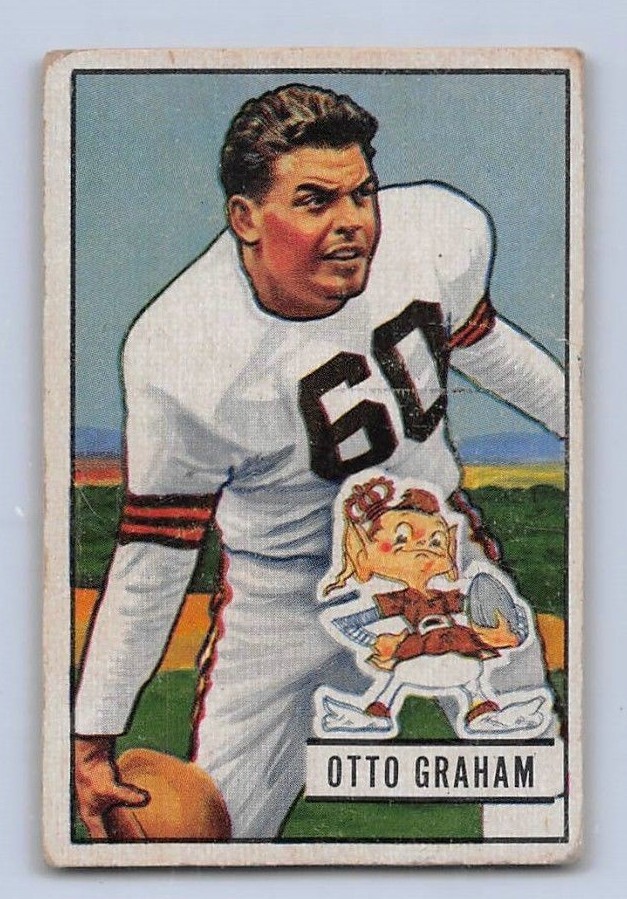 Anyway, its more about something I value, rather than something I'd consider an investment.
5
93
Palus Politicus


Re: Riittenhouse Found Not Guilty
mgh888
12/05/21
12:10 AM
Originally Posted by archbolddawg
Eh, it is what it is. They can hide behind feigned indifference, but even I have been backhandedly labeled a red neck. I believe in God, I live in the country, I own guns, I hunt. Have an 8 pt. hanging in my barn right now. For the 'cultured elite', that means redneck. From people that don't know jack about me.
I don't know you from Adam - I don't think of you as Redneck. The use of the word "Murica" isn't redneck to my mind. And if you live in the country, hunt and have an 8 point hanging in a barn ... you may or may not be a redneck. I don't know or care. I do know a lot of real and self proclaimed rednecks - they all wear that label with pride and it doesn't matter to me one way or another.
Not sure if you are labeling me a cultured elite. I don't know if you know of any ... and I don't know if those you know wear that name as a badge of pride? But I doubt it.
258
2,988
Palus Politicus


Re: Gun Law Reform?
bonefish
12/04/21
11:13 PM
Those are good points.

We have technology. There is money. I like your ideas on funding.

You could tax gun and ammo sales. Money can be raised.

I don't understand this. Why should any parent or student have fear in school? Long ago flying was safe.

There were no threats of hijacking or terrorists. When it started happening security ramped up.
Why are we hear today with nothing after all these shootings?

I don't expect much from government. Protection from attacks. Safe roads and bridges. Good schools.
Safety at school should be a given.

So, high school kids march and protest to be protected at school. And we do nothing about it.

Repulsive.
30
358
Palus Politicus


Re: Covid... still... p7
PitDAWG
12/04/21
07:35 PM
From your source.....
Quote
When broken down by the number of overall people who have received the vaccines, the reporting rate for this side effect is 7.4 per million for Pfizer and 20 per million for Moderna
Puts it a little more in context doesn't it?
352
6,320
Palus Politicus


Re: States' Rights
PitDAWG
12/04/21
04:56 PM
Originally Posted by FATE
The statement that you addressed? That there is a slavery issue in this country??

Nope. Not at all. "Who cares?" is the only rational response. I could start a petition to import purple pumpkins from the planet Zircon... it will have no bearing on anyone's lives. Instead of having a conversation about the real impact of states' rights you want to sidebar to argue about whether the possibility of slavery still exists, just because 'Peen said the notion is outdated.
Only people from the planet Zicron never enslaved a race of people in our nation. Once again I see this somewhere in the middle. Does what these kids are doing impact the life of anyone? No. And if that's the point you're trying to make here, we agree.
But somewhere, somehow these kids got this notion in their heads this was a good idea. Where that idea came from is the bigger issue and I think how that happened is something we should care about.
9
112
Tailgate Forum


Re: Cavaliers
Milk Man
12/04/21
03:32 AM
The Cavs are playing incredible defense. Hell, even Kevin Love seems rejuvenated and unlikely to fake an injury to sit our for awhile.

Impressive road trip.
166
7,154
Palus Politicus


Re: January 6th Fallout p2
PitDAWG
12/03/21
03:45 PM
Oh I agree that deceptive headlines are used on both sides. It's just comical to watch them try and claim it's a one way street. It's just as stupid as hearing them claim fake news by the left when they're sources are no less guilty of it.
225
7,318
Everything Else...


Re: Covid Booster Vax #3 Booster Thread
PitDAWG
12/02/21
06:02 PM
Originally Posted by FL_Dawg
j/c,

I hope that you all enjoy your false sense of security, just don't expect others to surrender their liberties for you to 'feel' safe.
Yes, doing your part to help protect the health of your fellow Americans is seriously infringing on your freedumb.
78
1,922
Pure Football Forum


Re: AFC North News and Notes Continued
THROW LONG
12/02/21
04:26 PM
Originally Posted by Cleats
From what I saw Sunday night Baker could have used a receiver or two running a short curl or comeback route. It seemed to me he held the ball too long waitting for the big chunck play to develop. If your guys can't get open deep we need a receiver coming back or a RB to dump it off too....those blitzes were killing us.
Where was Rashard Higgins, that's his thing. (One of them, the other is catching touchdowns, I guess.) Higgins was a healthy scratch.
64
2,808
Pure Football Forum


Re: Roster weakness and depth
THROW LONG
12/02/21
01:46 PM
The AFC East teams, Patriots, Bills, Dolphins. Appear, after watching this year, (and the Broncos' too )

appear to be demanding better performances out of their talent, Demand more , well if it were ice skating, (and I don't know why that suddeny came to mind and makes perfect sense)

The AFC demands jumps and lifts in their ice skating routines of a greater difficulty, out of lesser talented skaters than the Browns who appear to try and find the very very very 'wery bestufust' skaters, and then don't give a hoot how challenging the difficulty level of the plays they attempt on the ice skating rink.

And that's not always the players faults. I mean look at a case of a defense that plays back and soft zone for so many of the snaps of the earlier games this year. Look how they don't do the dangerous plays on 3rd downs and results are a million to one on 3rd and 4th down conversions for opposing offenses.

IF the AFC east teams, can, just, demand more, year round, or or or, in a difficulty setting of their team, then when you play them, you look like dirt. Even though you have the better athletes.

Just a thought. I don't have any education of football, all I did was watch it on tv for 50cough years.
1
158
Tailgate Forum


Re: Major League Baseball begins lockout
THROW LONG
12/02/21
10:24 AM
https://www.cbssports.com/mlb/news/...o-happen-during-baseballs-work-stoppage/
Two take aways from this article.
1. Money is an issue, imagine that.
2. If the lockout extends to the season, there may be minor league games nationally televised. imagine that.
Labor disputes interest me because for years I was an Ownership is probably right in my thinking. Because Unions always do more harm, get greedy ask for too much break down the company and everybody loses.
Later, after many years, I changed to a Unions are more likely right mindset, realizing ownership often does more to ruin the good thing everybody had going. Out of laziness sometime, imagine that.
(Side note. Never trust a breaking news story from the television news, which proclaimed, the lockout had begun, and was a breaking story, 23 hours ago, breaking overnight that the lockout had begun, well, pretty much no where else had this and they didn't get back to it, as it was "about to" start, at midnight! not, the other midnight. )
This article mentions Baseball is a (?) dollars per year league. (I forget, probably 10 billion, but I remember quickly figuring, about 30 teams, and that' would be about 333 million average per club per year.
And then that would mean the least club would probably, likely still pull in 175 million per year. Likely the top clubs would figure to pull in in the 500+ - 700+ million per year. What a disparity, probably the case.
It's important to have in you head a starting point like that, because people are never going to accept something that is totally unaffordable to them.
Oh, and over time the clubs go up in value, because money is a plummeting asset, because the democrats still exist, is how I figure it.
1
86